Blog Feed Comments Feed More RSS Feeds
Dodd to Push for Quasi-Independent CFPA
February 9, 2010 - by Donny Shaw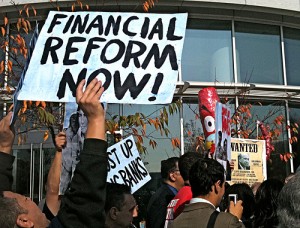 Last week, Senate Banking Committee Chairman Chris Dodd [D, CT] announced that he had reached an impasse with Republicans on the committee over what should be in the Senate's financial reform bill. The main sticking point was the proposal for a consumer financial watchdog agency that would be called the "Consumer Financial Protection Agency," or "CFPA." Dodd wanted the CFPA to be an independent agency. Republicans wanted it to be rolled in with one of the existing financial regulators.
Commentators wondered whether the bill had essentially died. Without Republican support and with the Democratic supermajority gone, it's hard to see it getting through the Senate.
The Huffington Post is reporting that Dodd will introduce his Dems-only financial bill this week, and that it will include a sort of quasi-independent CFPA.
Sources say he'll likely call for an agency that will have:



The authority to write and enforce rules governing mortgages, credit cards and consumer loans;
Its own budget, one not subject to the Congressional appropriations process so it can't be harmed by lawmakers bent on taking away its power;
A unitary executive nominated by the president and confirmed by the Senate;
And the power to police both banks and non-bank financial firms like payday lenders and mortgage finance companies.

The new body will likely be housed within the Treasury Department. While it won't be a purely independent agency like the Federal Trade Commission or the Consumer Product Safety Commission — two consumer-focused agencies on which it's modeled — it will still meet "the principles of [an] independent agency," Heather Booth, executive director of Americans for Financial Reform, said in an e-mail.
This sounds like prime chopping block material to me. Kind of like the compromised public option that Majority Leader Sen. Harry Reid [D, NV] included in the health care reform bill he brought to the floor, which was ultimately dropped to shore up support among conservative Democrats.
It's unclear how many Democrats would oppose the CFPA as Dodd is proposing it, but when the House debated financial reform legislation (H.R.4173) in December, a full 33 Democrats voted in favor of stripping out the CFPA.