Blog Feed Comments Feed More RSS Feeds
Senate Sinks Bush's BattleSCHIP
August 3, 2007 - by Donny Shaw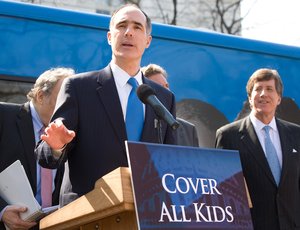 The Senate is just setting them up and knocking them down. Earlier on Thursday, they passed a groundbreaking lobbying and ethics reform bill by a landslide 83-14 vote. Then late last night, this:
>The U.S. Senate on Thursday overwhelmingly approved legislation [S.1893] that would raise tobacco taxes to pay for expanding a children's health program, shrugging off a veto threat from President George W. Bush who wants a more limited plan.
>
>The Senate voted 68-31 for the bill that would provide an extra $35 billion to provide health insurance for more children under the popular state grant program. The Senate acted a day after the U.S. House of Representatives approved a $50 billion increase financed by higher tobacco taxes and cuts in payments to private insurers in the Medicare Advantage program for the elderly.
>
>The Senate and House must reconcile their differences before sending a final bill to Bush sometime after lawmakers return from their monthlong August recess.
>
>Bush has threatened to veto either version, which he and Republican allies have called a step toward nationalized health care.
The 68-31 vote is enough to override a presidential veto. The corresponding bill in the House didn't get enough votes to override a veto due to Republican objections over the more dramatic increase in funding, changes to the changes in Medicare Advantage, and a scheduled cut to physicians' fees.
With both the Senate and House bills approved, the focus now moves to the conference committee, which will be responsible for combining the bills into a single proposal to send to the President. Some lawmakers, such as Finance Chairman Max Baucus (D-MT), are hoping that, after seeing how much support SCHIP expansion has in the Senate, the President will back off his veto threat and make the conference negotiations much easier. "I'm very hopeful that with a very large vote, the president will think, 'Gee, maybe it's not wise to veto this legislation,'" he said. And it's not just Congress that wants to see the more kids insured through under S-CHIP. As Jonathan Singer at MyDD, points out, more than 80 percent of Americans (including more than 70 percent of Republicans) support expanding SCHIP to cover every child in this country, and a large majority of Americans (including a sizable majority of Republicans) support such an expansion even if it meant that their own taxes would be raised."
But assuming that President Bush doesn't back off his veto threat, conference committee members will be wise to draft a bill that looks very similar to the one passed in the Senate. Senate Minority Whip Trent Lott (R-MS) is already suggesting that what Senate Republicans helped to pass last night is their bottom line for sustaining a veto. CongressDaily ($) reports :
>Minority Whip Lott predicted, however, that the Senate would be able to sustain a presidential veto of a conference report with the House. "If it goes one iota beyond what was in this bill, we will be able to sustain the veto," he said. Lott also said Republicans would object to a conference committee with the House. "They're not going to get this bill in conference until we get an agreement on what's going to be in it. We're not going to let it go" he said, adding that Finance ranking member Charles Grassley, R-Iowa, "is going to hold the line pretty strongly on this." Grassley helped write the compromise Senate bill.
If the bill that comes out of conference looks similar to the Senate bill, Democrats in the House may be able to find enough Republican backing to get a veto-proof majority there as well.
The conference committee won't meet until September. With a month-long recess beginning when Congress adjourns this evening, there's plenty of time to contact your senators or representative and tell them what you think about expanding children's health care coverage under SCHIP.