close
114th Congress: We're updating with new data as it becomes available.
Blog Feed Comments Feed More RSS Feeds
An Amendment to Break up the Big Banks
April 21, 2010 - by Donny Shaw
There has been an ongoing partisan spat in the Senate recently over whether or not the financial reform bill as prepared by Sen. Chris Dodd [D, CT] would actually end bailouts. Politifact has shown that Minority Leader Sen. Mitch McConnell's [R, KY] statement that the bill "actually guarantees future bailouts of Wall Street banks" is false, but there is more ambiguity over whether the resolution authority provision in the bill is actually strong enough to guarantee that there will never again be bailouts of too-big-to-fail banks.
Senators Sherrod Brown [D, OH], Ted Kaufman [D, DE], Bob Casey [D, PA] and Sheldon Whitehouse [D, RI] today announced that they are proposing legislation that I think everyone can agree would end once and for all the problem of having to bail out failing banks that are too big to fail. The legislation, which will be introduced next week as an amendment to the financial reform bill, is called the SAFE Banking Act. It would restore a strict 10% cap on any banks' share of overall deposits, set a 6% leverage limit for banks, and cap the maximum-amount of non-deposit assets that a bank can hold at 2% (non-bank financial companies would have a 3% cap). The amendment would cause the breaking up of a handful of the currently largest banks.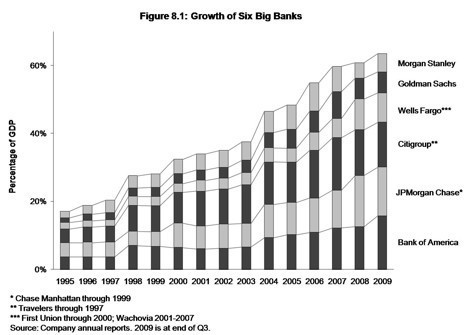 To give you a sense of just how big the big banks have become (they're bigger now than they were when they were first determined to be too big to fail), check out the graph on the right from Baseline Scenario's James Kwak. It shows that the top 6 banks now hold assets equal to more than 60% of total GDP (Source: Rortybomb).
Will Senate Republicans support this amendment to strengthen the resolution authority provision in Dodd's bill? Will the Democrats vote for it even though it would be seen as a tacit admission that the Dodd bill isn't strong enough? Will either party be able to overcome the influence of the enormous amount of money they receive from the finance sector each year? This is going to be a big vote, we'll be updating as it becomes clearer where the support is on this.