close
114th Congress: We're updating with new data as it becomes available.
Blog Feed Comments Feed More RSS Feeds
Roll Out the Cots
April 28, 2010 - by Donny Shaw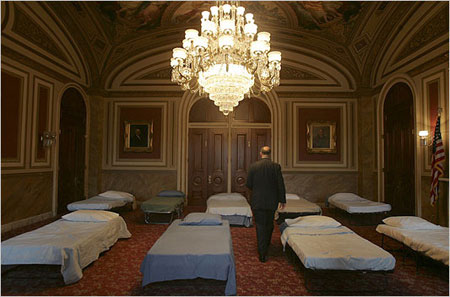 UPDATE: The Republicans have finally relented. They are going to let a unaimous consent agreement go through and proceed to an up or down vote on whether or not to begin debate.
Senate Democrats are planning an all-night debate on debating financial reform legislation — the Restoring American Financial Stability Act of 2010.
Earlier today, for the third time in three days, Senate Republicans voted lock-step (and Sen. Ben Nelson [D, NE] joined them) to block the the financial reform bill from even coming to the floor for debate and amending. Roll Call is reporting (via Political Wire) that Senate Majority Leader Harry Reid [D, NV] filed another cloture motion last night, which sets up another vote on breaking the Republican filibuster of beginning debate sometime after 1 a.m. ET. Other procedural votes will be held throughout the night.
Immediately after yesterday's vote, a handful of Senate Republicans came out and said, basically, that they don't expect a bipartisan deal and that they are just about ready to cave in and let the bill come to the floor. Tonight's all-night session could be enough to pressure Republicans into dropping the filibuster and letting the bill move to the floor (well, that and the fact that Minority Leader Mitch McConnell [R, KY] is probably looking to end these daily votes and get home for the Kentucky Derby).
Obviously, getting the bill to the floor will be good for the Democrats. But it's also good for senators from both parties that are looking to amend the bill. If Democratic and Republican leaders had struck a deal behind-the-scenes, they probably would have agreed to bring up the bill under a rule that banned all amendments. Without a deal, senators from both parties looking to "improve" the bill with amendment will probably get their votes. I'm thinking about things like the SAFE Banking Act amendment, which would force some of the big banks to get smaller, and an amendment to audit the Federal Reserve.