close
114th Congress: We're updating with new data as it becomes available.
Blog Feed Comments Feed More RSS Feeds
Dem Rep. Uses OpenCongress to Prove Centrist Credentials
October 12, 2010 - by Donny Shaw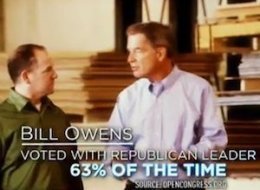 As campaign season heats up and and political ads get more and more negative, candidates are turning to OpenCongress for a more accurate picture of their voting records. As reported by Politico and the Washington Post today and the New York Times yesterday, Rep. Bill Owens [D, NY-23], who's in a competitive race against Republican challenger Matt Doheny, is using data generated by our head-to-head vote comparison tool in a new ad touting his bipartisan voting record.
The tool compares the voting records of any two members of Congress on all votes on passage of legislation where neither member abstained. It does not factor in procedural votes or non-substantial legislation, which tend to give a misleading picture because they are not controversial and are passed by wide margins most of the time. Important amendment votes are selected by OpenCongress staff and factored into the analysis. We think this gives the most accurate, unbiased picture of members' voting records on substantial legislation that can be found anywhere on the internet.
Our profile pages of Senators and Representatives provide information on how often they vote with a majority of their party, factoring in every single vote, including procedural ones and ones on naming post offices and such. According to this view, Owens votes with the Democrats 93% of the time. But that number is reductive and misleading. The fact is — and this is something you can see on the Washington Post's ranking of party voters — only 31 of the 255 Democrats currently in the House voted with their party less often than Owen. That puts him in the bottom 12th percentile when it comes to party loyalty.
I encourage you to poke around with the vote comparison tool to get a fuller picture of the facts. As Owens mentions in his ad, he has voted with Minority Leader Rep. John Boehner [R, OH-8] 63% of the time. But he also votes with Speaker Rep. Nancy Pelosi [D, CA-8] 85% of the time on votes where Pelosi did not abstain (small sample size here because, as Speaker, Pelosi abstains on all but the tightest votes). It's important to get the full picture here, including knowing which bills members agreed or disagreed on. We put all that information on one page so you can learn about your candidates' voting records at a more granular level without having to slog through huge volumes of information. Make sure you use the the head-to-head vote comparison tool to fact-check all the vote statistics you hear in political ads this season.
We also make structured roll call data available via our free API so that anybody can do their own remixing of the data and create custom vote analyses.
FYI, WaPo came to this conclusion about the Owens ad:
The ad raises the obvious question: Whose side are the facts on? Is Doheny's claim that Owens voted "with Pelosi 93 percent of the time" accurate, or is Owens's claim that "he voted with the Republican leader 63 percent of the time" correct? A lawmaker can't have a voting percentage split between two parties that is over 100 percent, right? Well, they can if you fudge the numbers.

The voting statistics come from the non-profit, independent website OpenCongress.org. The ad refers to two different ways that the site calculates voting percentages for members of Congress. It is true that, according to OpenCongress.org, Owens votes with his party 93 percent of the time. It is also true that Owens and House Minority Leader John Boehner have a 63 percent voting similarity. But when you match Owens's and Pelosi's voting record, they only share an 83 percent similarity. So Owen's and Doheny are both spinning the numbers — Owens in choosing not to mention that he votes with Pelosi 83 percent of the time and Doheny in claiming that the 93 percent voting similarity is with Pelosi as opposed to the Democratic party.