close
114th Congress: We're updating with new data as it becomes available.
Blog Feed Comments Feed More RSS Feeds
Stem Cell Bill Passed, But is Far From Having Enough Votes to Block a Veto
January 11, 2007 - by Donny Shaw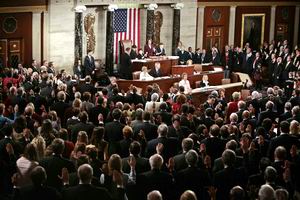 H.R.3, a bill to provide federal funding for embryonic stem cell research, the House's 3rd out of 6 bills in the 100 Hour Plan, passed today with a vote of 253-174.
Like the other bills that the House has voted on so far in the 100 hours, there was never any doubt that it would pass. All 3 bills have passed by a comfortable margin with plenty of Republicans crossing party line and casting "aye" votes. H.R. 1 and H.R. 2 had 299 and 315 "aye" votes respectively. Today's bill, H.R. 3, however had only 253. A big difference in the voting pattern thus far is that 14 Democrats voted against the stem cell bill. On the previous bills, every vote from a Democrat had been cast in favor. Not that it is a suprise, but today's vote shows the first rift in the way Democrats vote in the House.
Today's vote was on the first bill in the new Congress that President Bush has threatened to veto. The House would need a 2/3rds majority, 290 votes, to override the veto. Yesterday it seemed like some Representatives were thinking they would get close to that number in today's vote. This morning the President issued a strong statement reinforcing his stance against the bill and his intention to veto. This could have compelled some Republicans that were feeling unsure on the issue to vote along the lines of the President's strong opinion.
Democrats gained 30 seats in the Nov.7 elections, but todays vote only showed a gain of 15 votes from a version of the same bill that passed the House last year. Many Republicans that were for the bill last time, lost their elections, and a couple of newly elected Democrats voted against the bill. Some Republicans that supported the bill in the 109th Congress were replaced with Democrats who voted against the bill today.
Coincidentally, the number of new Democrats voting against the bill was the same as the number that changed their "no" votes from 2005, into "ayes" this time. So, the number of Democrats opposed was held at 14. So the only gains came from Republicans. Tim Holden (D-PA) and Dale Kildee (D-MI) changed their "noes" into "ayes." Two new Democratic Representatives, Heath Shuler (D-NC) and Brad Ellsworth (D-IN) voted against the bill today.