close
114th Congress: We're updating with new data as it becomes available.
Blog Feed Comments Feed More RSS Feeds
October 12, 2010 - by Donny Shaw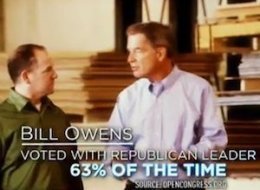 As campaign season heats up and and political ads get more and more negative, candidates are turning to OpenCongress for a more accurate picture of their voting records. As reported by Politico and the Washington Post today and the New York Times yesterday, Rep. Bill Owens [D, NY-23], who's in a competitive race against Republican challenger Matt Doheny, is using data generated by our head-to-head vote comparison tool in a new ad touting his bipartisan voting record. But what does the data really say?
Read Full Article