close
114th Congress: We're updating with new data as it becomes available.
Blog Feed Comments Feed More RSS Feeds
September 10, 2009 - by Paul Blumenthal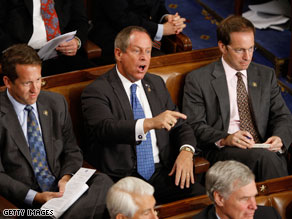 At some point in the developmental process human beings recognize that their emotional responses do not need to be immediately verbalized. Sometimes this development allows for some exceptions, berating your congressman at a town hall meeting or yelling at the movie screen to warn a character not to go in there. One place not to lose your cool is the floor of Congress. Especially if you decide to yell "You lie!" to the President of the United States during a speech to a joint session of Congress.
Read Full Article