close
114th Congress: We're updating with new data as it becomes available.
Blog Feed Comments Feed More RSS Feeds
April 22, 2010 - by Donny Shaw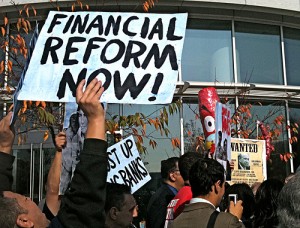 Senate Majority Leader Sen. Harry Reid [D, NV] filed for cloture on the financial reform bill today, meaning that the Senate can move forward with a vote to begin debating on Monday. Under Senate rules, if there is an objection to a unanimous consent request to bring up a bill for floor debate, as is the case with the financial reform bill, at least 16 senators must sign and file a cloture petition on the motion to proceed to the bill. After 30 hours, the Senate can vote on whether or not to invoke cloture. The cloture vote is set for Monday, April 26 at 5:00 p.m. ET and will require a supermajority of 60 votes to pass.
Read Full Article